El último boss en que estuvimos el pasado día de testeo en el PTR, fue la primera parte del boss final: Spine of Deathwing, o la Espina Dorsal de Deathwing (a saber cómo lo han traducido).
Accedemos a este boss desde el anterior barco, tras una cinemática que no ha sido desvelada aún. Aparecemos sobre la espalda de Deathwing, rodeados de bichejos, que al matar, hacen que salgan otros bichejos, y más y más bichejos hasta que todo se convierte en caos, muerte y destrucción.
En este encuentro tenemos que usar algunos de los bichejos anteriores, que explotan, para romper la armadura de la espalda del boss. A mayores, Deathwing detecta si toda la raid se pone a un lado u otro de su espalda, y entonces intenta desprenderse de todo lo que tenga encima dando una vuelta sobre sí mismo.
En el diario de mazmorra aparecen ya sus habilidades:
When Deathwing first channeled the Dragon Soul's power against the other flights, the massive energies that were unleashed threatened to break apart his very body. Rather than forgo this weapon, he had adamantium plates fused to his scales to hold his body together. Later reinforced with elementium, these plates are now his weakness--the sole vulnerability to Deathwing's lethal presence.


Barrel Roll
Throughout the encounter, Deathwing tries to throw players from his back when he senses that they are all standing on the same side of his spine. During a barrel roll, all players and other creatures not attached to his back are thrown off.
Elementium Reinforced Plates
The glancing strike from the Dragon Soul has destroyed one of the large armor plates on Deathwing's back and loosened another three. All of these plates must be removed if Thrall is to have a chance to get a clear shot.
Burning Tendons - Burning Tendons are exposed when one of Deathwing's armor plates is pried up. Destroying these fibrous strands is the key to removing an armor plate.
Seal Armor Breach - When an armor plate is pried up, the Burning Tendons rapidly pull the plate closed, protecting the tendons from further damage and preventing the plate from flying off.
Deathwing's Immune System
The creatures that comprise Deathwing's Immune System emerge from the holes in his back left by torn off armor plates. Deathwing defends himself with increasing intensity as more plates are torn off.
Burst - Corrupted Blood explodes when destroyed, inflicting 20000 Fire damage to nearby enemies.
Residue - This indestructible residue is left behind when a Corrupted Blood is destroyed. It slowly creeps toward the nearest hole in Deathwing's Back where it will be reconstituted into a new Corrupted Blood.
Imágenes:


Cuando empiezas a romper su armadura (que por cierto nos costó un buen rato discernir qué era lo que habia que romper), se ve tal que así: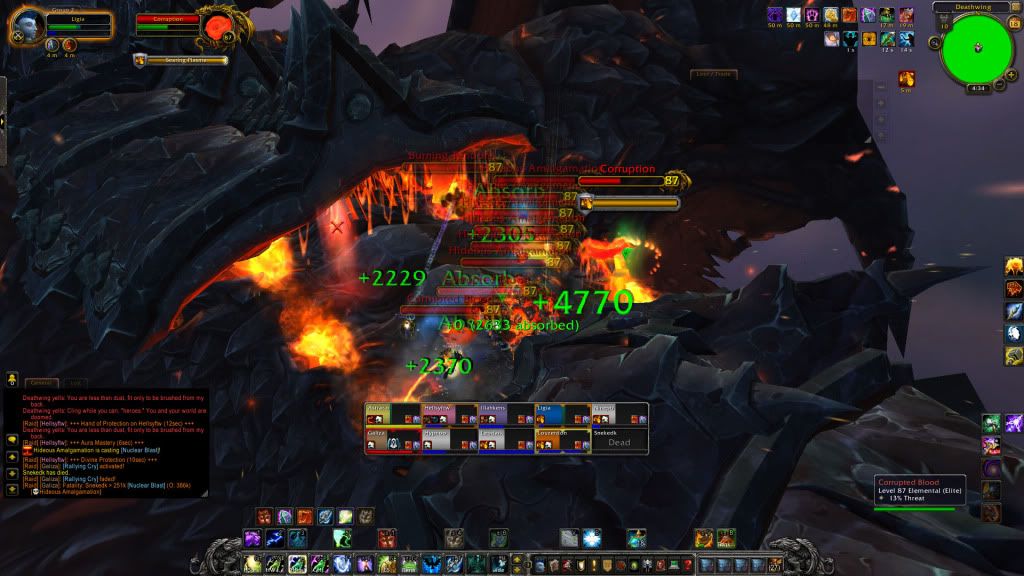 Y en este boss, si la cagamos, también saldremos volando por los aires. Parece que a Blizz le mola eso de lanzarnos al vacío desde objetos voladores :(